The Literacy Council of Palm Harbor Library
The Literacy Council of Palm Harbor Library is an all volunteer outreach program of the Palm Harbor Friends of the Library. We serve adults who read below eighth grade level or for whom English is a second language. It is our belief that we can make a difference by improving an adult's ability to read, write, and speak English through one-on-one tutoring. We are an affiliate of Pro Literacy America (Pro Lit). All tutors are trained and certified in compliance with Pro Lit requirements. Pro Lit has been teaching adults to read and write for more than 60 years. It is the world's largest literacy organization. Our services are free to all. No tax money is used for the Literacy program. The Friends is a non-profit organization that serves the Library in many significant ways and they subsidize the cost of providing our service. Please patronize the Book Nook. The proceeds benefit the Library in many important way.
How We Do It
A tutor works with only one student at a time. They meet twice a week for 1.5 hours each lesson. Scheduling is at their mutual convenience. Student and tutor books are loaned by the Friends of the Library.
If You Can Read, You Can Teach!
In addition, tact, patience, and caring are required. You MUST complete a training workshop to be certified as a tutor. Workshops are held in throughout the year. Please call 784-3332, ext. 3010 for more information.
Our Mission
Our Mission is to teach adults to read, write, speak and understand English well enough to cope, enhance and enrich their daily lives.
If interested in being a tutor, please fill out this Tutor Application Form If interested in becoming a student, please fill out this Student Enrollment Form
Online Resources
Student Resources
Reading Horizons Online – Online resource for students and tutors. Current tutors can contact us for login information.
Dave's ESL Cafe – Lessons about idioms, grammar, phrase verbs and slang.
IIP Digital – A collaborative English language video game experience. Learn English and explore American culture through puzzles, games, and adventures in an interactive world.
Pronunciator A self-study language program includes ESL lessons in a variety of languages.
The Internet TESL Journal Self-Study Quizzes – Offers self-study quizzes on grammar, idioms, phrasal verbs, slang, etc. Has links to other sites for both students and tutors.
Comenius – Features fluency by using fables and idioms. Has links to other sites for both students and tutors.
Learn American English – Learn about expressions that are popular in the United States.
TOEFL – Information about the Test of English as a Foreign Language.
US Citizenship Resources – Videos, practice tests and study guides are available for free to download and stream.
USA Learns. Self-paced ESL Lessons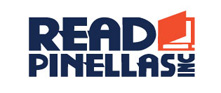 Thanks to Read Pinellas for continued financial support for training.  In 2019, Read Pinellas paid for Literacy Staff to attend the Florida Literacy Conference. 
Save the Date: Literacy Celebration September 21, 2019
2019 Literacy Staff
Director – Diana Silveira
Database – Roberta Ostfeld
Placement – Tanya Altschaft and Lenora Laveau
Recruiter – Mary Ann Todd
Trainer – Margaret Ringl
Trainer – Bill Ward
Trainer – Terry Thomas
Volunteer Liaison – Mary Ann Janssen
2019 Training and Key Dates
Training
January 26
March 9
May 18
September 7
November 16
All Training Days are 10-4pm, Training is in the Martin Room except for May 18th which is in the Palm Room.